Top Ecommerce Payment gateways to Reach Chinese Consumers in 2023
Updated on
January 2023 | By QPSoftware
Category:
China's E-commerce market is the largest in the world, reaching 2.8 trillion USD in 2022 according to Insider Intelligence, over 2.5 times the size of the US's E-commerce market.
Creating an E-commerce website to take advantage of China's massive E-commerce market could be lucrative, but only when done correctly. Choosing the right payment gateways to collect money from your customers is critical for a successful E-commerce website in China.
When shopping online, the average Chinese consumer has no hesitancy when buying from big marketplace platforms like TMall, Taobao, JD, and so forth. However, when selling from your standalone E-commerce website, you must offer Chinese consumers payment methods that they trust and make them feel at ease.
For this reason, it is essential for you to understand what the payment gateways are and which ones are the most trusted in China.
What Is a Payment Gateway?
A payment gateway allows you to collect money from your customer's credit cards, debit cards, or digital wallets when they buy something from your online shop.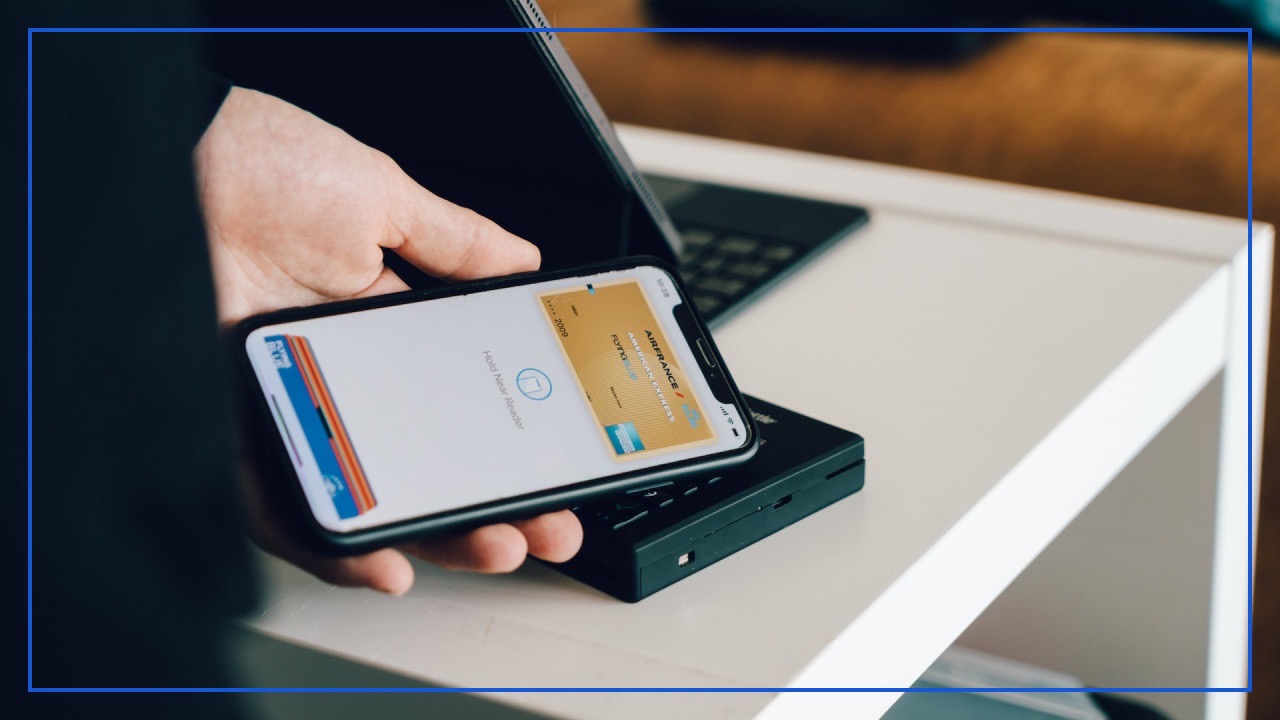 Think about the physical point of sale (POS) terminal you find at any brick-and-mortar store. Once you insert your card into it, your card information is processed, and the payment is authorized. A payment gateway works exactly the same way on your website.
Payment gateways can be easily integrated into the most popular E-commerce content management systems (CMS) like Adobe Commerce and PrestaShop. They offer a series of advantages for both merchants and buyers. By adding a layer of security to the transactions, customers feel safe and, in turn, are more likely to buy.
Additionally, payment gateways are available 24/7, support several forms of payment, including credit cards, debit cards, and mobile payment via digital wallet and come with real-time reporting tools to track your sales performance.
While in the West, PayPal is one of the most popular E-commerce payment gateways, it is not popular in China. With its unique E-commerce ecosystem and mobile payment-dominated payment infrastructure, China's market requires merchants to adapt to payment gateways specific to China.
Are Payment Gateways Really Necessary for E-commerce in China?
The short answer – yes.
While most developed economies went from debit cards to credit cards and are only now switching to mobile payments, China mostly skipped credit cards and went straight to mobile, with a 87.6% penetration rate for mobile payments in 2021.
Hence, while some Chinese consumers can buy online with credit and debit cards, mobile payment options are what most Chinese consumers expect at checkout. Local consumers will tend to have less trust in websites that only accept payment by credit card.
It is very important to understand the psychology of a buyer to close a sale. Therefore, payment gateways must be integrated if you want to create an environment that gives your customers peace of mind and an incentive to buy from you.
What Is the Difference Between a Payment Gateway, a Merchant Account and a Payment Processor?
Although a customer may buy something online in a matter of seconds, during this short period of time a lot is going on behind the scenes. To finalize the purchase and for you to collect the money three elements must work together: the payment gateway, the payment processor and the merchant account. Let's consider what the differences are between these three elements.
We have already explained that the payment gateways are like the sale terminal we use at any brick-and-mortar store. Its function is to accept an online payment on your E-commerce site. It acts as the mediator between the transaction on your website and the payment processor.
The information collected by the payment gateway is transferred to the payment processors. These are the financial institutions that authorize the transaction and handle the movement of money. They exchange communication between the cardholder's bank and the merchant account. They verify the validity of the card, fund availability, determine if monthly limits have been exceeded and so on. If everything is found to be legit, the payment processor authorizes the transfer of funds to the merchant account.
The merchant account is a kind of bank account where the money of a successful transaction is deposited. However, they are different from a normal bank account because you do not have control over it. Once the money is deposited into your merchant account, the funds will then be transferred to your official business account.
What to Look for in a Payment Gateway
Before deciding which payment gateway to use with your online shop, you must possess insight into the behavior of the local buyers. Just because a payment gateway is the most popular in your country doesn't make it the right choice in China. For instance, PayPal is not easy for most Chinese consumers to access, and if you rely on it for E-commerce activities in China, you will not have many sales.
Moreover, ensure that the payment gateway you need is compatible with your CMS. The most popular E-commerce platforms like PrestaShop and Adobe Commerce are compatible with the major Chinese payment gateways, but you should always double-check.
Another thing you must consider when selling within the Chinese market is the blocks imposed by the Great Firewall. To avoid problems and create a smooth customer experience, it is always best to choose from one of the most popular payment gateways in China.
Payment Gateway Considerations for Cross-Broder Businesses
Businesses with a Chinese business license and international businesses selling to China will face different requirements to begin selling. International businesses selling to China should consider choosing a payment gateways that make cross-border transactions simple.
7 Best Payment Gateway Providers for E-Commerce in China
To help make your choice easier, we have selected the 7 best payment gateways for selling in China. If you integrate at least Alipay and WeChat pay, the top payment methods covering over 90% of the Chinese market, you will not have any problems in the Chinese market.
| | | | | | | |
| --- | --- | --- | --- | --- | --- | --- |
| Payment Gateway | Headquarters | Merchant Fee | Currency Support | Cross-Border Support | Mobile Payment | Customer Service Hours |
| | Hangzhou, China, 2004 | 0.55% | USD, EUR, JPY, GBP, CAD, AUD, HKD, SGD, CHF, SEK, DKK, NOK, NZD, THB, HKD | Yes | Yes | 8:00 – 24:00 Monday to Sunday (Beijing time) |
| | Shenzhen, China, 2012 | 0.6% | USD, EUR, JPY, GBP, CAD, AUD, HKD, SGD, CHF, SEK, DKK, NZD, KRW, THB, RUB | Yes | Yes | Email |
| | Shanghai, China, 2002 | 0.8% | 135+ currencies | Yes | Yes | 24/7 |
| | Dublin, Ireland, 2009 | 2.9% + 0.3USD per transaction | 135+ currencies | Yes | Yes | 24/7 |
| | Shanghai, China, 2004 | 2.5% | USD, EUR, JPY, GBP, CAD, AUD, HKD, SGD, CHF, SEK, DKK, NOK | Yes | Yes | 8:00 – 24:00 Monday to Sunday (Beijing time) |
| | Beijing, China, 2003 | | | Yes | Yes | |
| | Beijing, China, 1998 | | | Yes | Yes | 24/7 |
Alipay
Alipay belongs to Alibaba Group, and it is currently the most used payment gateway in China.
Alipay works with Visa, Mastercard, and about another 180 financial institutions. This makes it a perfect payment solution for most E-commerce websites.
What makes this payment solution highly valued in China is the protection it offers to the customers. Alipay offers an escrow service that allows customer to verify their goods before releasing their payment. It also accepts immediate payments for booking services or digital products instead of using the escrow service.
In 2020, Alipay also launched Alipay+, a cross-border payments solution, to help facilitate cross-border transactions between Chinese consumers and international merchants.
Features:
Pros:
Alipay's parent company Alibaba is one of the largest tech giants in China, conferring trust
Alipay is already widely used by Chinese consumers for mobile payments
Lowest merchant fees out of all competitors
Cons:
Limited international currency support
WeChat Pay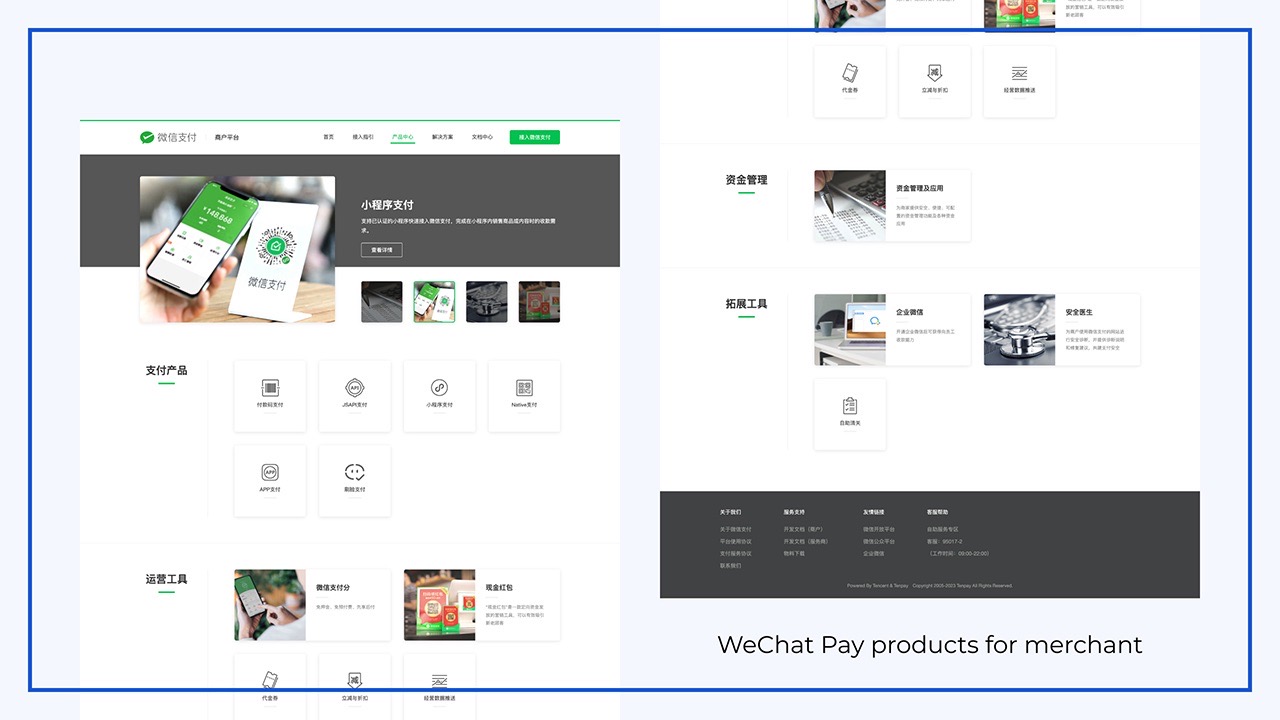 The official name of this payment gateway is TenPay, however, people in mainland China refer to it as WeChat Pay. The payment platform was released by Tencent, the company that owns WeChat, as a countermeasure against the dominance of Alipay.
TenPay is integrated into WeChat, the most popular social network in China with over 1 billion users. Therefore, WeChat Pay has quickly risen to become the second most popular payment method in China.
Notable also is that WeChat pay can be linked to your WeChat Official Account , allowing your customers to see and buy your products directly from their mobile phones.
In addition, on WeChat, businesses can set up their own WeChat Store (Weidian微店), integrated with tools from the rest of the WeChat ecosystem, including Mini Programs, Official Accounts, and of course, WeChat Pay. This allows businesses to sell directly to consumers without needing to leave WeChat.
Features:
Connected to WeChat, a ubiquitous software crucial in average Chinese people's daily lives.
Pros:
WeChat's parent company Tencent is one of the largest tech giants in China, conferring trust
WeChat Pay is already widely used by Chinese consumers for mobile payments
Low merchant fees, second only to Alipay
Cons:
Limited international currency support
Union Pay
UnionPay is the first payment service that began operating in China and is based in Shanghai. It is the closest thing in China to plastic credit cards we in the West are familiar with. When the platform opened, its aim was to unify China's credit card and banking network systems. Therefore, it was given the name Union Pay.
Currently, it is the third most popular payment gateway in China, and anyone with a Chinese bank account can access Union Pay. Thanks to UnionPay's global reach, Chinese nationals living or travelling abroad can withdraw money in local currency from 1.7 million ATMs across the world. UnionPay has also entered the digital wallet arena with UnionPay Mobile Quickpass, bringing the extensive cross-border commerce and E-commerce infrastructure it has already built up.
Features:
Widespread usage by Chinese nationals living and traveling abroad.
Closest analog to Western credit cards
Pros:
Widest range of international currencies supported
Large, state-backed company, conferring strong consumer trust
Lower fees compared to other competitors aimed at cross-border E-commerce
Cons:
UnionPay Mobile Quickpass is less popular than WeChat and Alipay as a mobile payment solution within China
Younger people living in China are less likely to use bank cards, and thus Unionpay, as their primary payment method
Stripe
Stripe is a well-established payment processing platform familiar to most readers. Many might not know that Stripe now accepts payments from Alipay and WeChat Pay digital wallets. This makes it a prime candidate for international businesses looking for a familiar and easy-to-use payment gateway to reach Chinese consumers. Stripe allows Chinese consumers to pay in RMB via their WeChat or Alipay digital wallets, and merchants will receive funds in their local currency.
Features:
Good choice for Western businesses looking for a single payment gateway to accept payments from many different currencies
Pros:
Easy to navigate for Western businesses
Easy to integrate into E-commerce websites
Wide range of international currencies supported
Cons:
Higher fees than Chinese payment gateways
99Bill
99Bill is still a small payment gateway, but you shouldn't overlook its potential. 99Bill has partnered with over 80 financial institutions and serves more than 1.1 million merchants. Therefore, 99Bill is a good option for overseas businesses serving Chinese consumers to integrate into your E-commerce site to collect money from your customers and settle in your native currency.
Features:
Aimed at cross-border E-commerce businesses based outside of China looking to reach Chinese customers.
Pros:
Strong focus on the cross-border E-commerce niche.
Covers remittance fee for settlement banks
No annual fee
No fees for currency exchange
Cons:
Less well known than major competitors like Alipay, WeChatPay, and UnionPay
$5000 USD minimum turnover for merchant settlement
YeePay
YeePay is a payment gateway that focuses on innovation and providing its users with a cost-effective way to handle transactions. It was the first company to be awarded qualification for cross-border payment business in China.
The company doesn't focus primarily on the retail industry but in travel and airline booking, digital entertainment, insurance, telecom, and similar things. YeePay was one of the first payment platforms to obtain a license from the People's Bank of China.
Its merchant base is growing, and they operate in 20+ provinces in China.
Features:
Targets specific industry niches such as travel, airlines, and education institutes,
Pros:
Real-time currency exchange
No fees for currency exchange
Cons:
Not suitable for retail merchants
PayEase
PayEase may boast the largest banking network thanks to its alliance with 23 major banks in China. This massive network allows PayEase to accept payment from 63 types of credit and debit cards, including American Express, Mastercard, Visa and JCB.
PayEase is committed to providing a user-friendly, highly secure and cost-effective payment platform. The service provided by PayEase is constantly improving as they have set the goal of becoming leaders in the industry.
Conclusion
Opening an E-commerce website in China is a smart move for sure. The local Chinese market offers excellent opportunities for conducting business online. However, the operating environment is more challenging and requires more planning and knowledge of local habits.
As discussed in this article, just choosing the right payment gateway in China requires a lot of study and analysis of your user base. At times, it may be not easy to handle all these challenges on your own, and having the support of a local expert may be the fastest and most effective solution.
QPS has been operating in China for over 10 years, and we can assist you as you enter into the Chinese market. We can build your E-commerce site using a CMS such as PrestaShop or Adobe Commerce and integrate the best payment gateways for your industry.
Call us today, and we will explain our E-commerce solutions for the Chinese market.