WeChat Mini Program - All you need to know
Updated on
March 2023 | By QPSoftware
Category:
We have updated this article in March 2023 regarding the various changes that have been made to WeChat Mini Programs since the creation of this post in March 2017.
What Is a Mini Program?
WeChat Mini Programs are small applications that function within WeChat. Mini Programs essentially operate like a separate mobile app, except that they are hosted and function within another app without the need for separate installation.
First launched on WeChat in 2017 by Tencent, WeChat Mini Programs were initially more basic than a standard native APP. However, as Tencent opened more APIs for developers, Mini Programs have become quite similar to a native APP in terms of their complexity.
According to Tencent's 2022Q3 report, WeChat Mini Programs has surpassed 600 million DAU, an increase of 30% year on year.
There are more than 3.5 million mini programs on the market transacting 2.7 trillion RMB and more than 450 million daily users in 2021, as stated in the 2022 Weixin Open Class Pro Main Forum (2022 微信公开课PRO).
Today, other "super apps" such as Alipay and Baidu have also since implemented Mini Programs into their own ecosystems. Despite this, WeChat's Mini Program ecosystem remains the most widely used and most mature.
Mini Programs have become the way to do almost everything in China. From ordering food to finding love, Mini Programs cover a wide range of services and needs of hundreds of millions of users every day.
WHY THE NAME MINI PROGRAM?
Tencent coined "Mini Programs" to resolve the dispute with Apple over the use of the term "app", however, the term "Mini App" is sometimes used when talking about these programs.
ACCESSING WECHAT MINI PROGRAMS
To access the Mini Program interface in WeChat, go the chat interface, and pull down. Here, you will have access to your most recently used Mini Programs and a search engine for Mini Programs.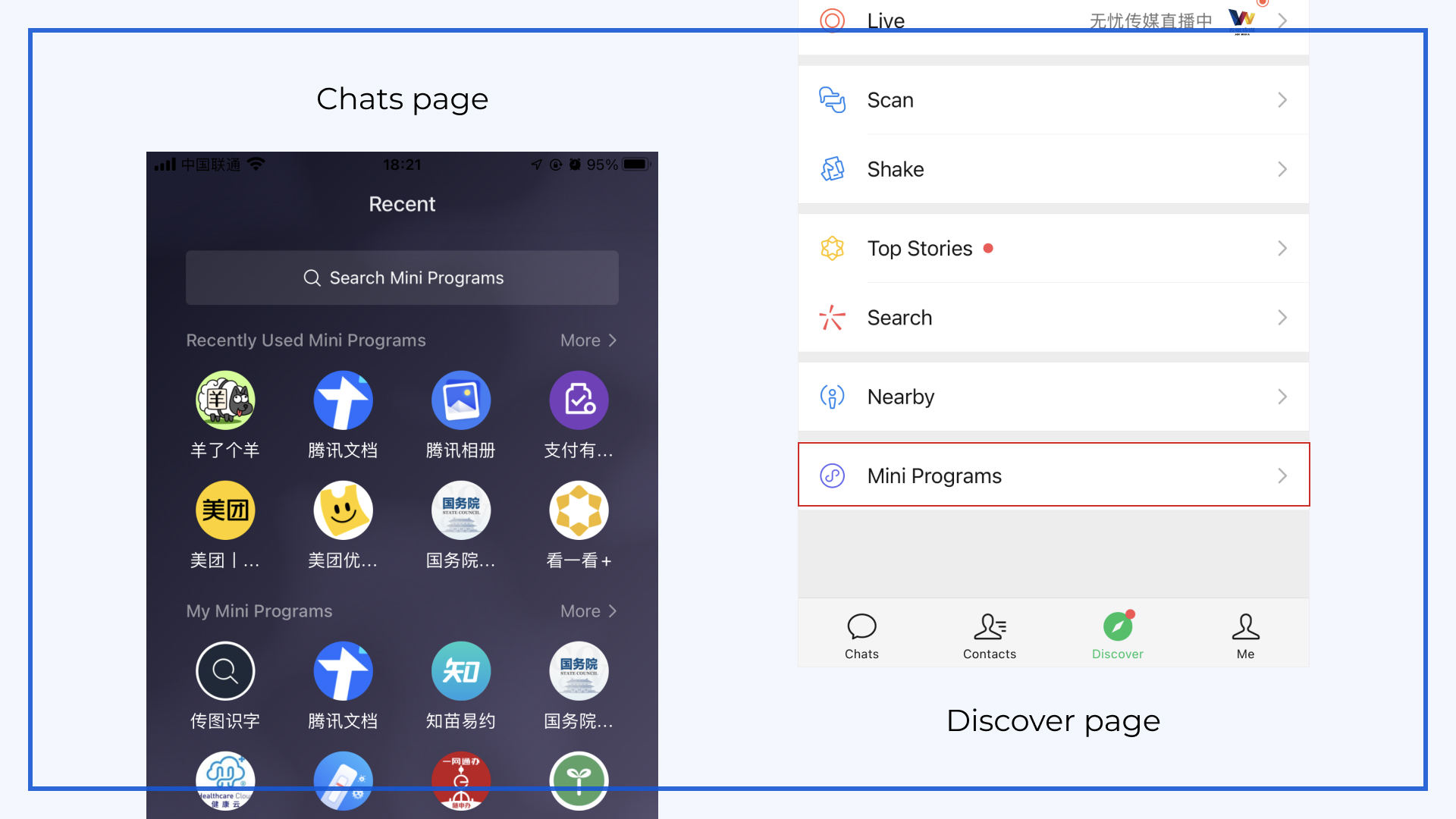 You can also search for Mini Programs in your chats.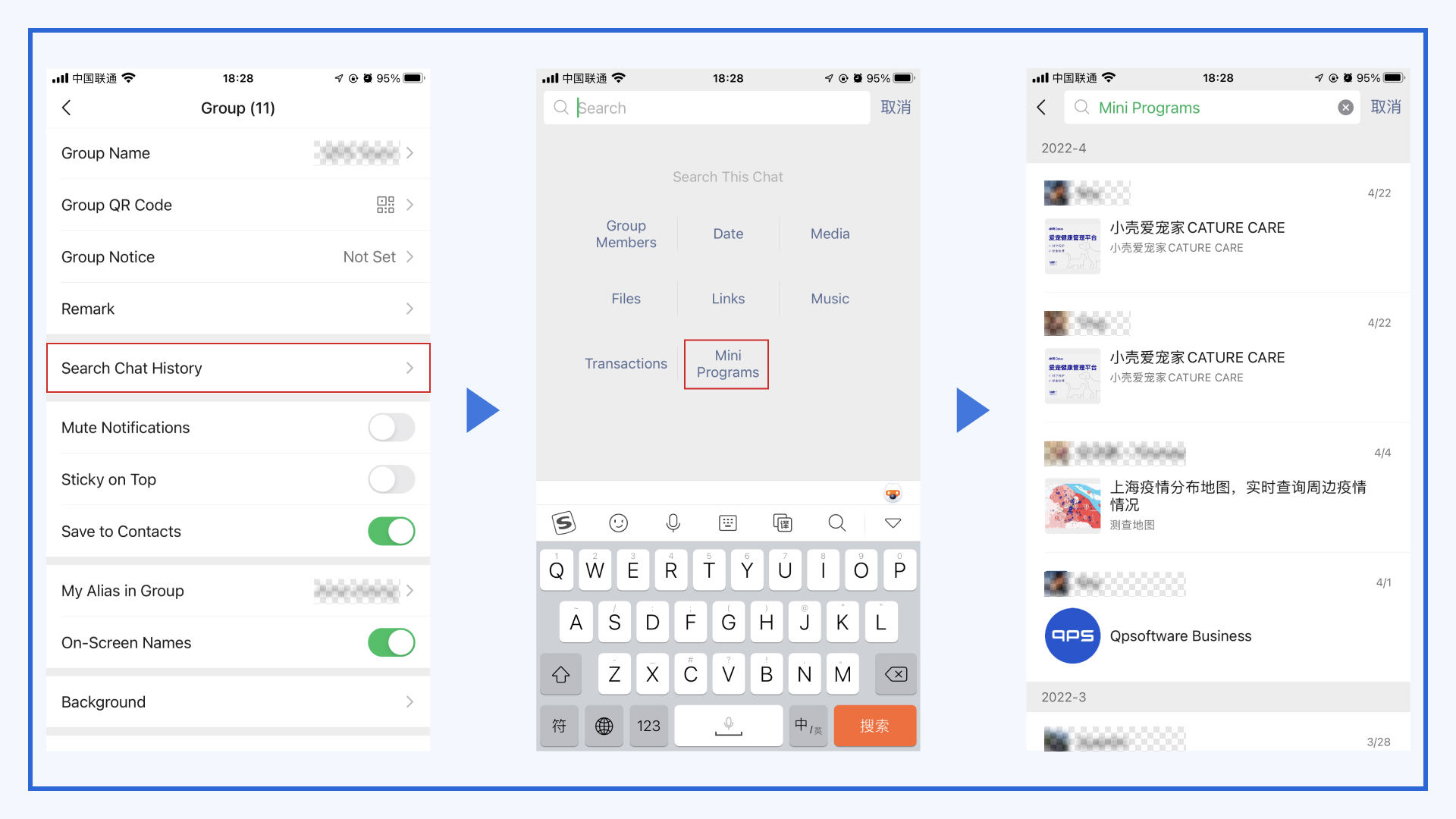 HOW TO INSTALL A WECHAT MINI PROGRAM
Mini Programs are not available in app stores. To find and install one, you will have to search for it on WeChat, scan a QR code from a street advertisement, receive it within a WeChat group or from a friend, find it linked to a WeChat Official Account, or come across one in your WeChat moments.
HOW TO DELETE A MINI PROGRAM
If you no longer need or want one of your Mini Programs, all you have to do is delete it from your WeChat by simply pressing and holding down on the Mini Program you wish to delete. It is as simple as deleting a message.
HOW TO SHARE A MINI PROGRAM
To share Mini Program, users can forward them to their contacts or to a chat groups. Businesses can also advertise their WeChat Mini Programs via QR codes, within their WeChat Official Account articles, or as a WeChat moments advertisement. As you can see below, the layout/visual of the Mini Program is much more attractive than just a simple link.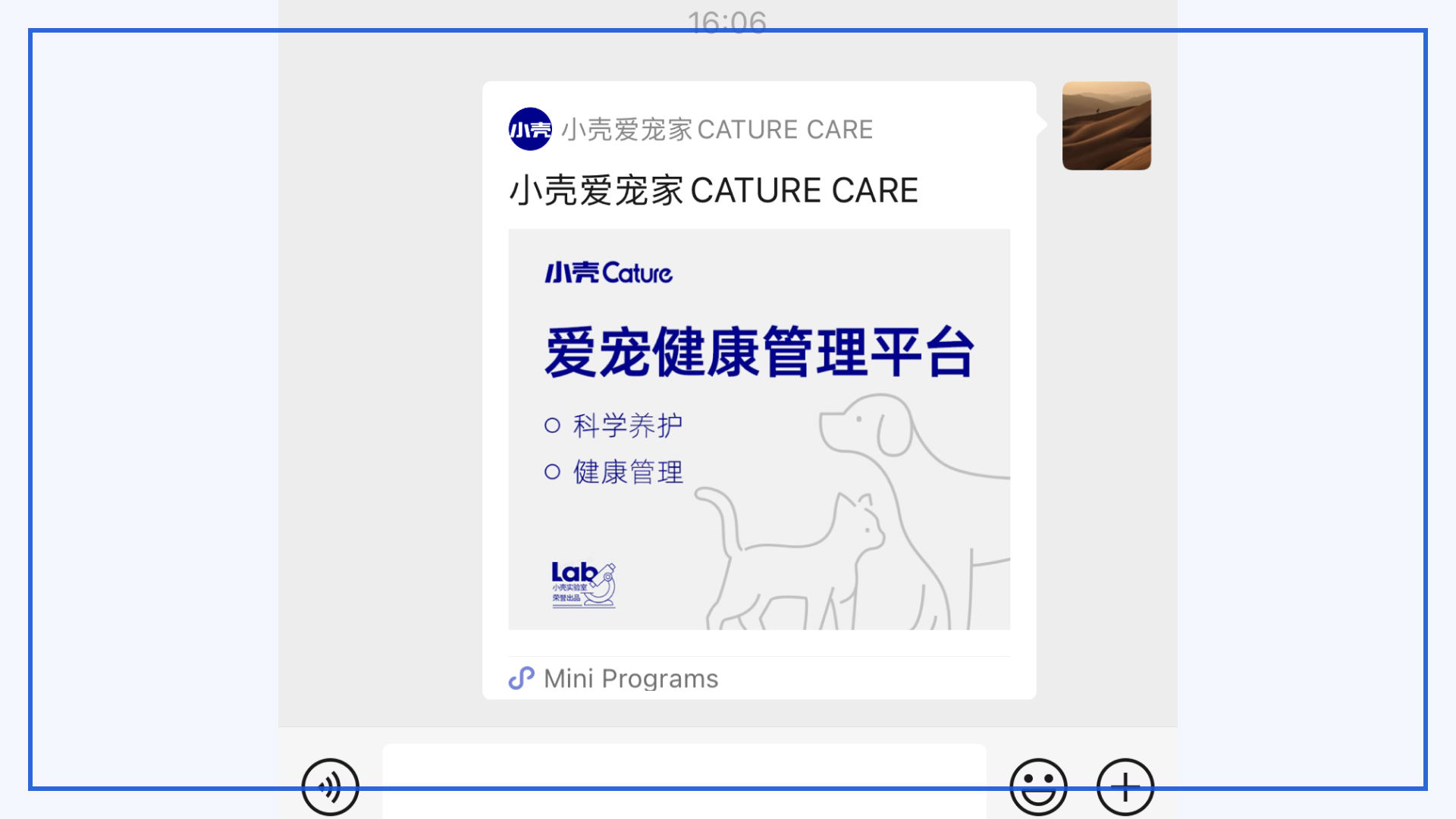 WHAT ARE THE DIFFERENT TYPES OF WECHAT MINI PROGRAMS?
Today, there are many Mini Program platforms aside from WeChat. While every platform has a full range of industry representation in their Mini Programs, the distribution of industry representation differs between platforms.
According to QuestMobile's 2022 year-end report, the main type of Mini Program service across platforms is lifestyle services. Lifestyle Mini Programs constitute the most common service seen on WeChat, Alipay, and Baidu. Ecommerce Mini Programs also rank in the top three across these platforms.
While Baidu contains more education and news industry Mini Programs and Alipay contains more city service and finance oriented Mini Programs, WeChat's Mini Programs are slightly more diverse.
The two types of Mini Programs unique to the WeChat ecosystem are the office productivity category and Minigame category of Mini Programs, making up 10% and 7% of the top 100 Mini Programs on WeChat respectively. They have seen a respective 3% and 6% increase in representation in 2022 compared to the same period in 2021.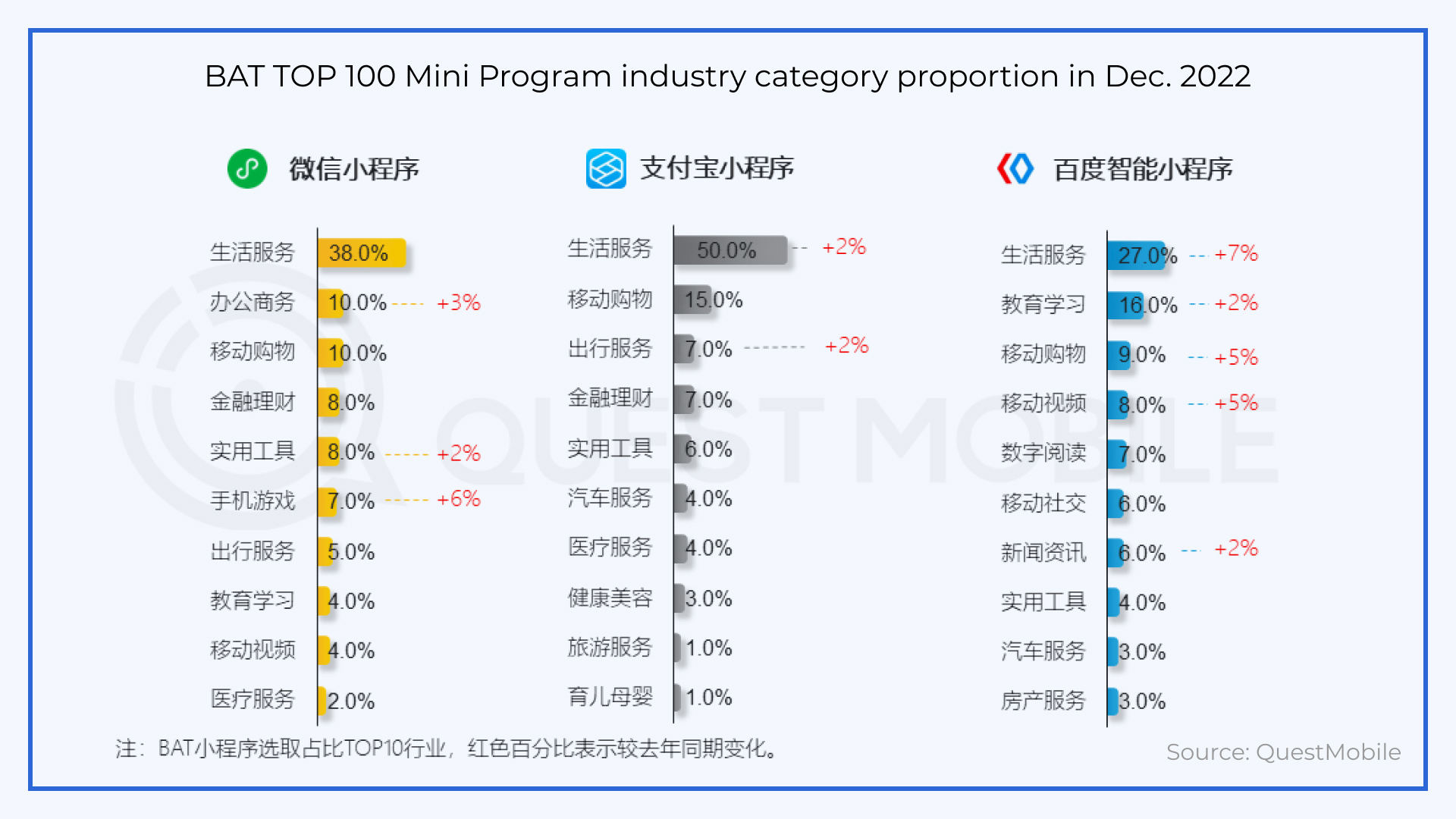 Examples Of Popular WeChat Mini Programs
There are thousands of companies using WeChat Mini Programs to promote their services. If you think that Mini Programs are only used by Chinese companies, think twice. Brands from Uniqlo to Starbucks all have their own WeChat Mini Programs which allow for engagement with consumers through membership cards and other brand activities. Both MacDonalds and KFC's Mini Programs rank in the top 50 most used apps of 2022 and MacDonalds take first place respectively in the F&B category.
WECHAT MINI GAMES
WeChat Mini Games are Mini Programs designed for gaming. As they are already integrated in WeChat's Tencent servers, they benefit from smooth loading speeds and have all of WeChat's social features. WeChat Mini Games let users compete with their friends, displaying your WeChat contact's scores on leaderboards. Once you have finished your game, you receive an automatic notification to see who (among your friends) you have beaten. This social feature on mini games helps to increase the average time on the program and the user retention.
One of the most popular Mini Games in 2018 was Jump Jump (跳一跳). This mini game challenges the player to jump over different boxes by pressing the screen without falling out. This mini app reached 100 million users in only two weeks. In September 2022, Sheep Sheep (羊了个羊), a tile matching game achieved viral success, reaching over 60 million active users a day and becoming a hot topic on various platforms such as Weibo and Douyin.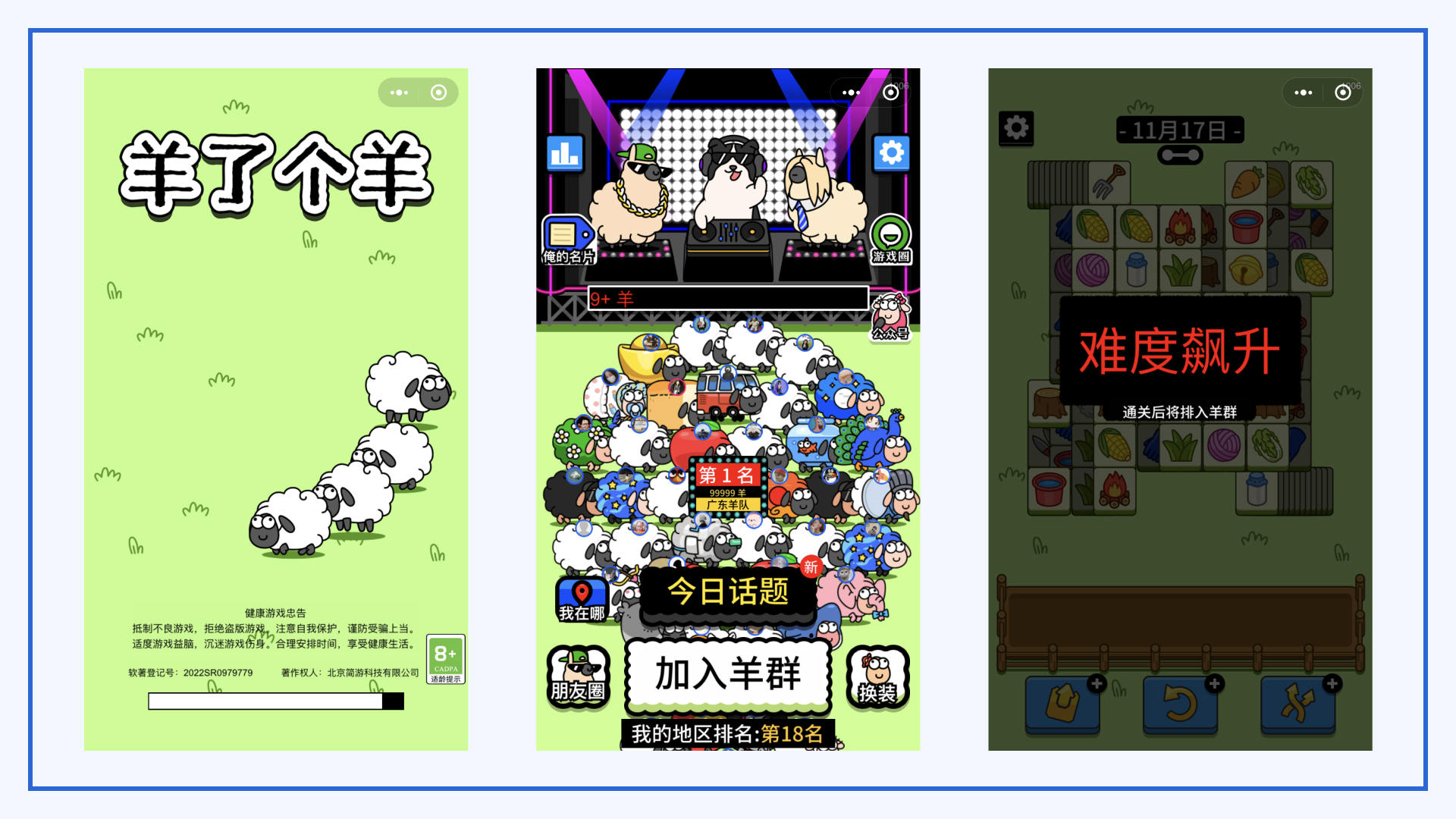 LIFESTYLE SERVICES
From catching a train to splitting bills, there are thousands of Mini Programs that ease the routines of millions of people in China. Bike Sharing mini apps are one of the most popular options among urban and not so urban users. If you want to know more about this phenomenon, check our article about The Growth of The Bike Sharing Industry in China. Brands like Mobike and Qingju now have their own Mini Program that allows users to use their bikes without leaving WeChat.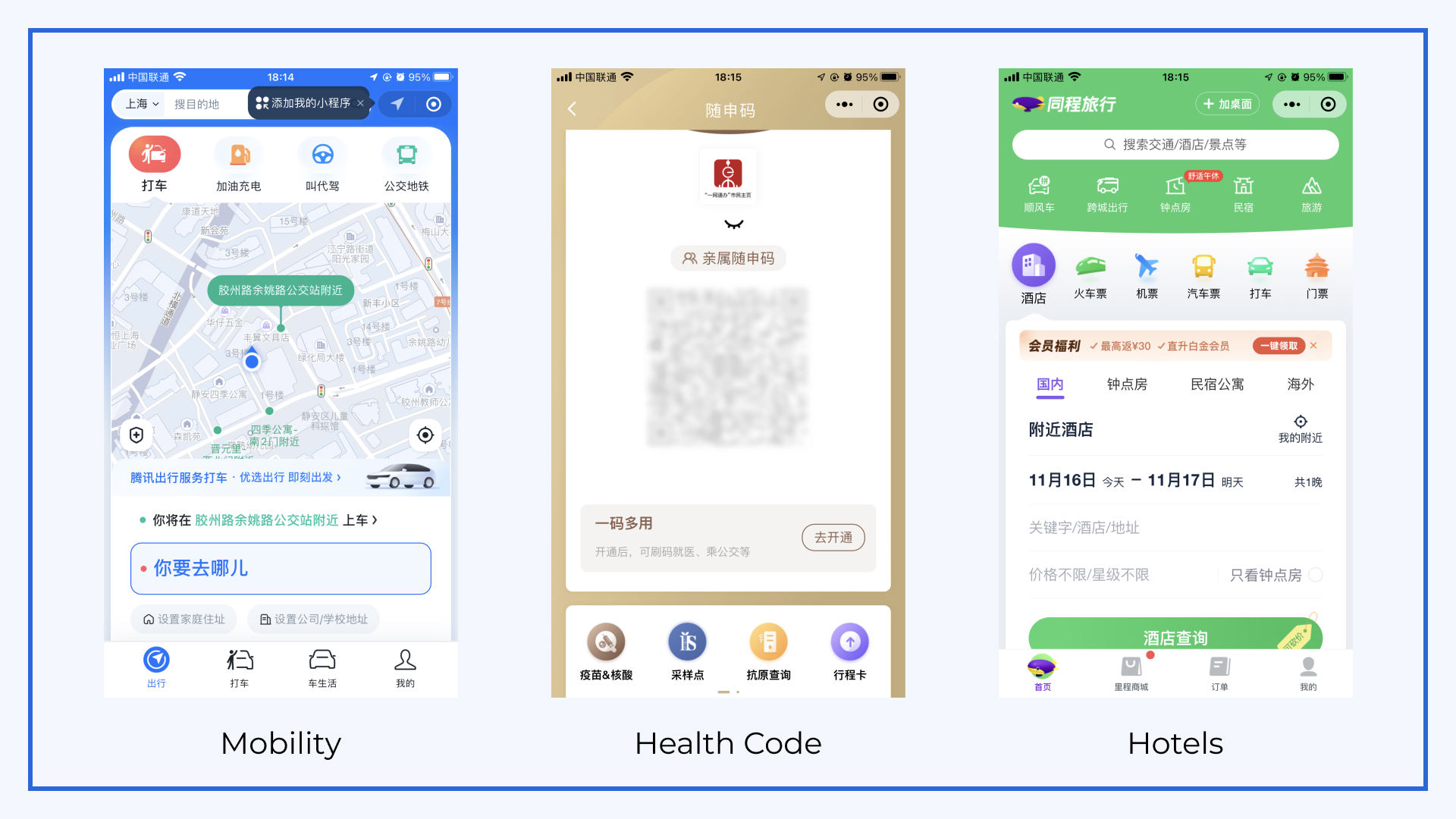 E-COMMERCE MINI PROGRAMS
China's largest retailers are on WeChat. One of the perks of WeChat E-commerce Mini Programs is their integration with WeChat Pay. This integration makes the purchase process easier and faster as users don't need to log in between different platforms to complete their payment.
In 2022, WeChat's Ecommerce Mini Programs saw the highest number of active users, at 689 million users, compared to competitors Alipay and Baidu, which have 94 million and 7 million respectively.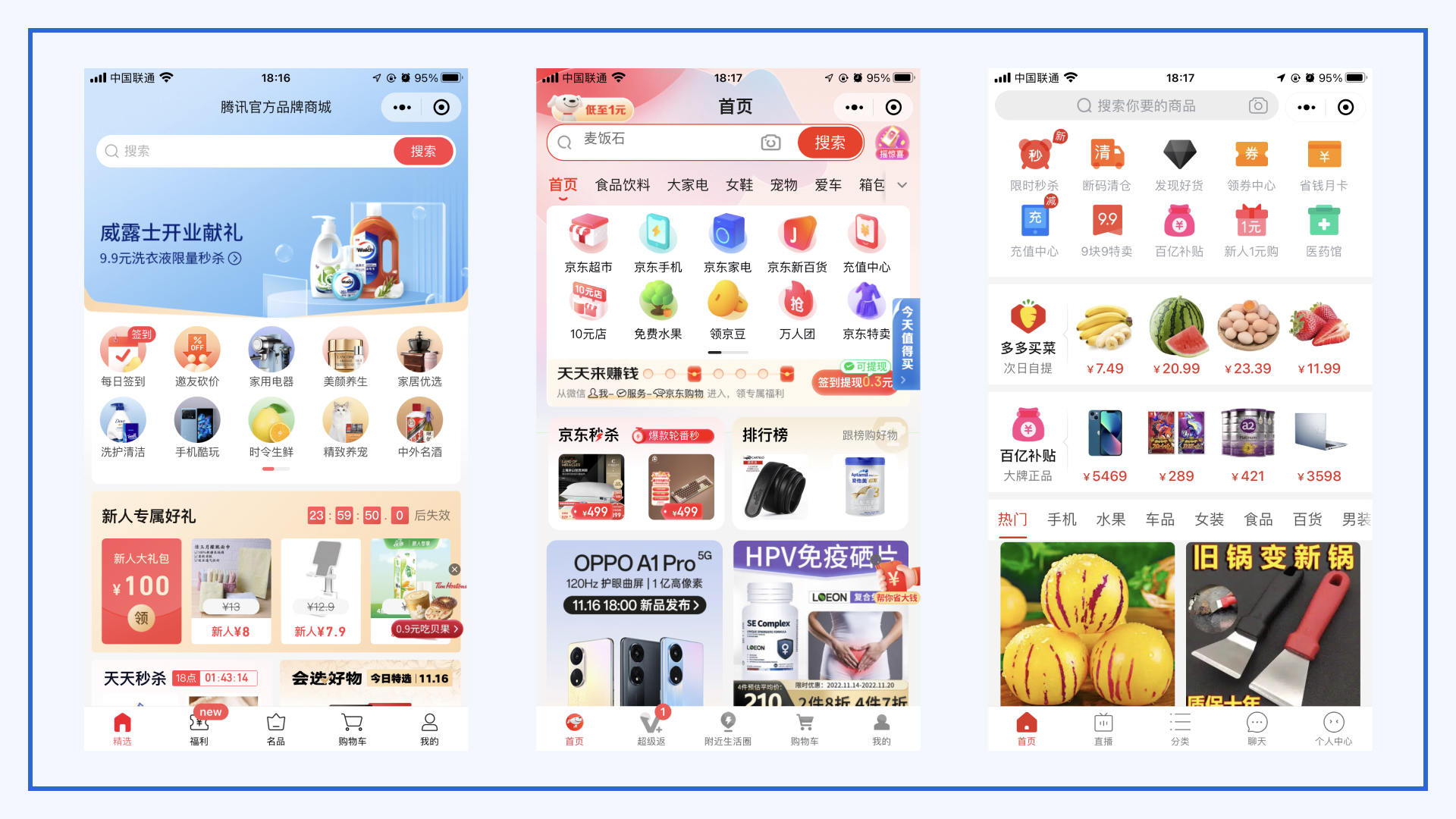 OFFICE PRODUCTIVITY MINI PROGRAMS
Tencent's own Tencent Docs is the most popular office tool Mini Program on WeChat. Considering its integration with the rest of Tencent's ecosystem, this should come as no surprise.
As a native app, Tencent Docs resembles Google Docs in its scope, offering Doc, Sheet, Slide, Form, and Mind Map formats. As a Mini Program, Tencent Docs is fully featured, and includes useful functions such as scan-to-convert functions, PDF conversion, sharing documents to other WeChat users, importing files from WeChat, and various third-party add-ons.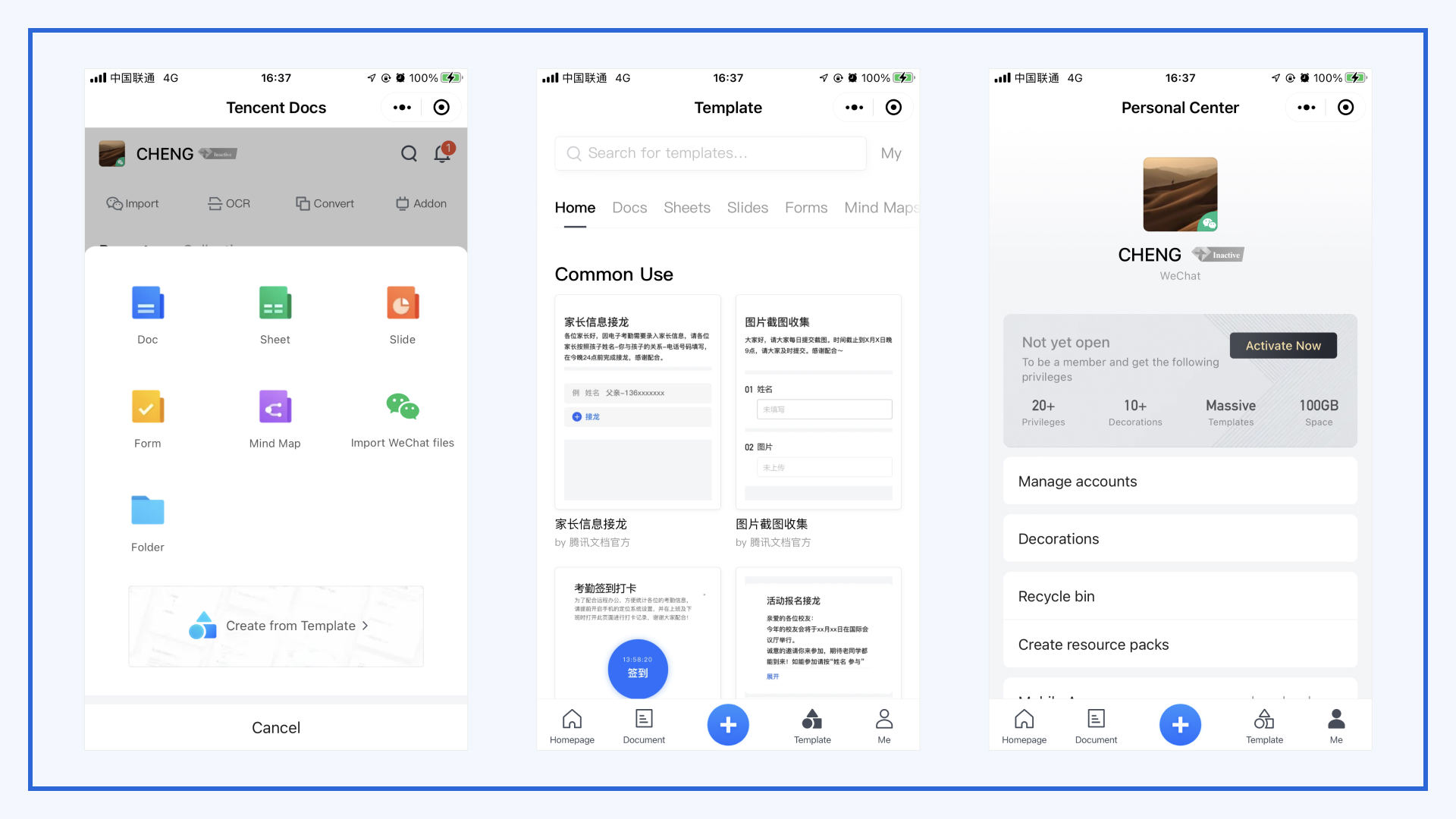 What are the User Demographics for WeChat Mini Programs?
WeChat Mini Programs reached 600 million DAU in 2022, representing 89.2% of all WeChat users, according to a report by Statista.
According to 2022 stats from QuestMobile, digital shopping via Mini Programs is more popular than via native apps for post-00s and post-90s generations in China. Post-70s and post-60s generations still skew towards buying via native apps, while post-80s generations are evenly split on Mini Programs versus native apps for their Ecommerce needs.
When sorting users by city size, we begin seeing a trend of increasing Mini Program usage for Ecommerce as we move up the city tiers. First tier and new first tier cities overwhelmingly prefer Mini Program purchases over native app purchases: 22.9% and 27.5% of Mini Program shoppers are first tier city and new first tier city residents respectively, while only 8.5% and 14.9% of native app shoppers are from first tier cities and new first tier cities respectively.
These trends stay true across platforms, and we see a similar distribution for Mini Programs on both Alipay and Baidu.
This 2022 trend is a complete reversal of the trends seen in QuestMobile's 2018 report on WeChat Mini Programs, which saw Mini Program usage skew towards more third tier and lower cities.
With increasing Mini Program usage and spending amongst first and new first tier residents, we have seen Mini Programs become a more urban and reliable ecommerce portal in 2023.
What are the Advantages of Mini Programs?
Mini Programs are very lightweight and do not require users to download them to their phone. Users can access them anywhere, anytime.
However, where WeChat Mini Programs really shine is their tight integration with the rest of the WeChat ecosystem.
WeChat Mini Programs are hosted on Tencent's servers, so their loading speed is swift and efficient.
Second, from a marketing perspective, Mini Programs have a captive audience, and they work with every OS supporting WeChat. Indeed, in less than a year the time spent on WeChat Mini Programs went from 1.6 minutes per day to 9.8 minutes
Third, thanks to their tight integration, Mini Programs can drive traffic to a business's Official Account and vice versa. WeChat Mini Programs can serve as the entry point into a brand's digital ecosystem, via things like membership cards and rewards systems.
What are the Limitations of Mini Programs?
The size limit of a Mini Program is only 20 MB (however the pictures, videos and sounds can be hosted on a server and are not included in this 20 MB size).
WeChat restricts Mini Programs from linking to outside the Tencent ecosystem, making it difficult to coordinate with other parts of a brand's web infrastructure.
Aside from WeChat Pay and the newly supported UnionPay, other payment options are not accessible in Mini Programs.
Unlike content from Official Accounts, Mini Programs can't be push notifications. While certain Mini Program functionalities can be shared on moments now, by and large, sharing functionality is still limited to group and individual chats.
Mini Programs must be written in a specific language, a Tencent developed Javascript framework. In addition, all updates to Mini Programs must go through Tencent.
Mini Programs vs Official Accounts vs Web Apps vs Mobile Apps in the Context of WeChat
| | | | | | | |
| --- | --- | --- | --- | --- | --- | --- |
| | Accessibility | Requires Separate Download? | Use Case | Where is Data Stored | Pros | Cons |
| Mini Programs | Use within WeChat only | No | Rewards systems, E-commerce, booking | Tencent Servers | Tight integration with WeChat ecosystem | Unable to send push notification, limited by Tencent guidelines |
| Official Accounts | Use within WeChat only | no | Promotion | Tencent Servers | Can be shared easily throughout WeChat, can send push notifications | No E-commerce functionality |
| Web Apps | Use within WeChat only | no | Rewards systems, E-commerce, booking | Own Servers | More flexibility in app design compared to Mini Programs. Can also be made to accept payments from other payment systems like Alipay. | Not as well integrated into WeChat ecosystem and requires users to open a link to a website outside of WeChat. Much more difficult to promote via Official Accounts. |
| Mobile Apps | Use anywhere | yes | Promotion, reward systems, E-commerce, booking | Own servers | Can send push notification, fully featured, not size limitation, developer sets the rules | Not fully integrated into WeChat, can be blocked on WeChat if Tencent deems it's a competitor (think Taobao) |
MINI PROGRAMS AND OFFICIAL ACCOUNTS?
The main difference between Mini Programs and Official Accounts is that users subscribe to an official account to receive news and info from that company, meaning there is an ongoing relationship between an official account and its followers. Mini Programs do not foster this same relationship, as users can just scan a QR code once to use the program.
WECHAT MINI PROGRAM VS WECHAT WEB APP
Even before the WeChat world was talking about Mini Programs, people were developing Web Apps using the WeChat API. WeChat Web Apps are not built using the WeChat framework and have less restrictions. In our article WeChat Mini Program Vs WeChat App we tell you the pros and cons of creating these kinds of applications.
MINI PROGRAMS AND MOBILE APPS?
As already mentioned, there is no need to download Mini Programs to your phone, and you won't find them in any app store. There's also a difference in the development costs. The cost to develop a Mini Program is usually cheaper than developing a native app.
DO WECHAT MINI PROGRAMS REPLACE APPS?
While WeChat Mini Programs are used by many businesses, most have their own native apps. So, we can respond to this with "no". This is because Mini Programs and native apps can target different use cases and consumer niches.
Today, most native apps have Mini Program counterparts. While Alipay and Baidu are the next largest Mini Program platforms, WeChat's Mini Program ecosystem is the most well developed and mature.
According to QuestMobile's 2022 year-end report, many WeChat Mini Programs outcompete their native app counterparts. This is true for city services (China Mobile) and food delivery services (Elema and Meituan food delivery) and especially true for online document sharing services (Jinshan Docs and Tencent Docs).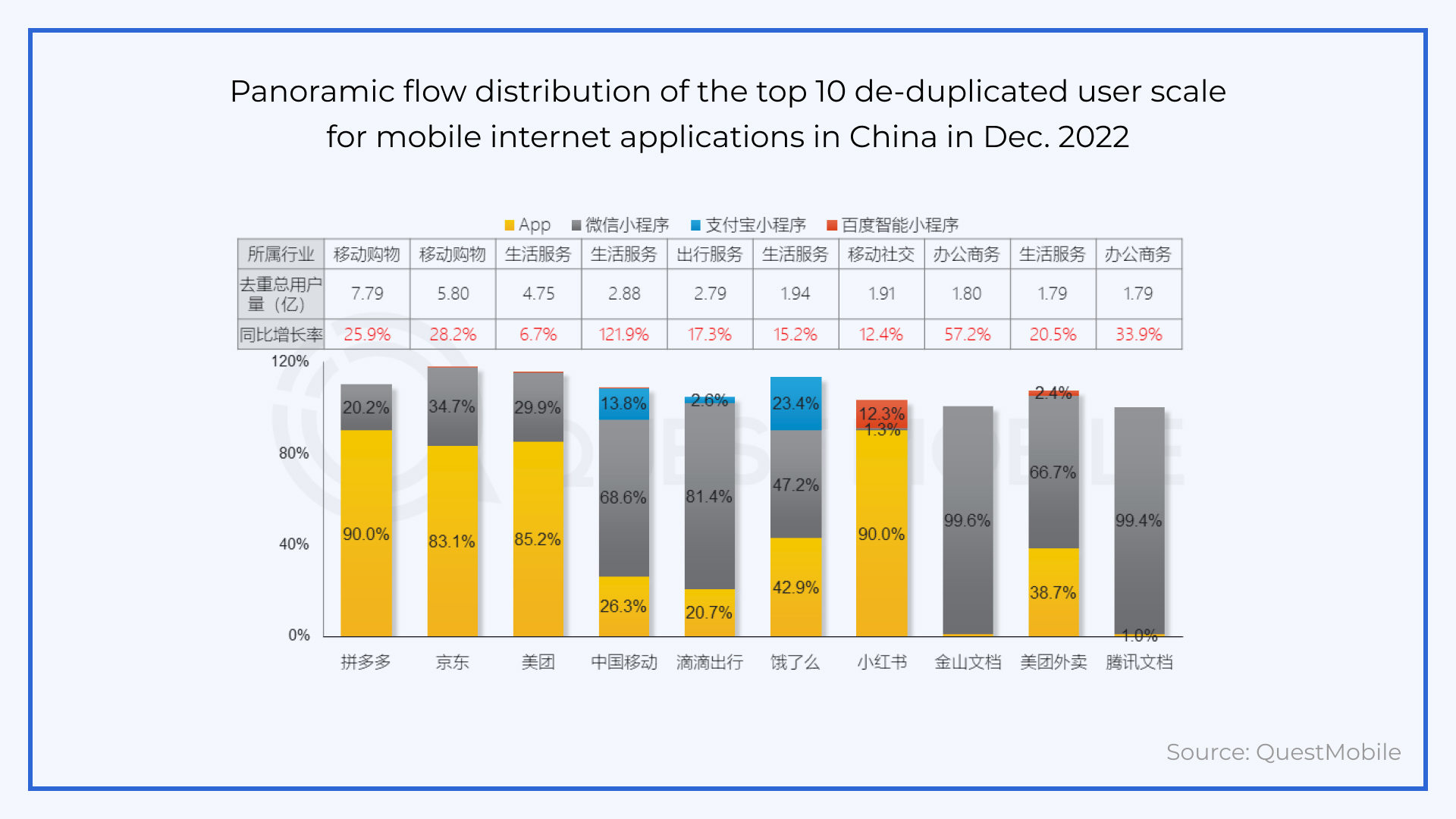 However, for most other services, considering the differing user demographics of native apps and Mini Programs, businesses should combine both native apps and Mini Programs, to have full coverage of market.
What Are the Most Popular Mini Programs?
As of late 2022, top ranked Mini Programs are now:
Tencent Mobile Top-up – 腾讯手机充值 (lifestyle services)
Daily Fees – 生活缴费 (lifestyle services)
Didi – 滴滴出行 (transport)
JD - 京东购物 (ecommerce)
WeChat City Services (lifestyle services)
How to Develop a WeChat Mini Program?
A WeChat Mini Program developer needs to know the fundamentals of coding and use the required programming language (JavaScript). Moreover, Mini Program developers on WeChat must have a deep insight into the customer's audience too, which for the majority will be Chinese. In our article How to develop a WeChat Mini Program that rocks, you can find detailed info about how to success with your latest WeChat project.
How to Develop a WeChat Mini Program Marketing Campaign?
WeChat Mini Programs can serve as a crucial part of a wider digital marketing campaign. They can be used to increase user engagement with a brand through simple functionality and convenient access within WeChat.
Used in tandem with WeChat Official Accounts, WeChat Mini Programs can provide immediate E-commerce functionality and advanced functionality to follow up on promotional Official Account articles.
For example, convenience store chain 7/11 uses WeChat Mini Programs for their loyalty rewards program. Within the loyalty rewards program, customers can access the E-commerce store of products they can buy at a discount with the loyalty points they have earned.
What Does the Future Look Like For Mini Programs?
Mini Programs have the advantage of simplicity. They are cheap to develop, and easy to add and delete, but they are becoming more and more complex. Tencent's WeChat developers are making them more advanced, particularly for gaming and e-commerce purposes, giving WeChat a stronger edge in this market. Mini Programs are starting to become a part of life for more and more developers and WeChat users, competing with traditional apps and acquiring customers from traditional app stores.
Over half a decade into the launch of Mini Programs, they are now everywhere, making it impossible for larger companies to ignore. Tencent bet on making this "trend" something permanent has so far paid off.
QPSoftware is the leading WeChat Agency located in Shanghai, we have more than 10 years working on the WeChat environment. We can help you to open an official account, run a WeChat Store or develop a WeChat Miniprogram.
Need more information about Mini Programs?
Interested in creating your own Mini Program or Native APP?
Then contact us today!