Your Guide To WeChat Features
Updated on
December 2022 | By QPSoftware
Category:
WeChat has been on the scene for over a decade and has reached the status of being one of the most popular social networks in the world. True, in the Western World, WeChat may not be as popular as WhatsApp. Nevertheless, if you live in China or do business in this market, you need WeChat.
Every day, over 1 billion users use WeChat. This means that almost every Chinese person uses the Social Network daily. WeChat is not simply a handy tool for the Chinese to organize their life and have social interactions. WeChat is a major marketing tool for companies doing business in China.
What is WeChat?
WeChat is a multipurpose messaging and social media app released by Tencent. The platform comes with countless features that make WeChat much more powerful and advanced than any other social network.
At present, WeChat is the largest social network in China which can count on a user base of over 1.3 billion customers. Since other popular social network platforms, like Facebook, are blocked in China, WeChat is a critical marketing channel for companies in China.
What Can You Do with WeChat?
The Chinese often refer to WeChat as the "app for everything" or "the super app" and those names truly reflect the capability of this app. Besides the messaging functions, WeChat is used daily by Chinese users for buying goods and services, transferring money, planning holidays, contacting customer support, marketing purposes, and a lot more.
After the launch of WeChat pay in 2013 and the ecommerce capabilities that later followed, perhaps the most important WeChat feature updates we've seen so far have been the launch of WeChat Mini Programs in 2017 and WeChat channels in 2020. While many of these features have been designed for individual users, brands and companies have the most to gain from properly taking advantage of these features.
A closer look at the available features of WeChat in 2022 will help you to understand how to use this social network to reach more customers in China, promote your products and services and expand your business in China.
WeChat Features for Companies
WeChat's comprehensive ecosystem and its ubiquity for everyday life make WeChat essential for businesses in China. What WeChat features can help businesses grow in China?
WeChat Official Account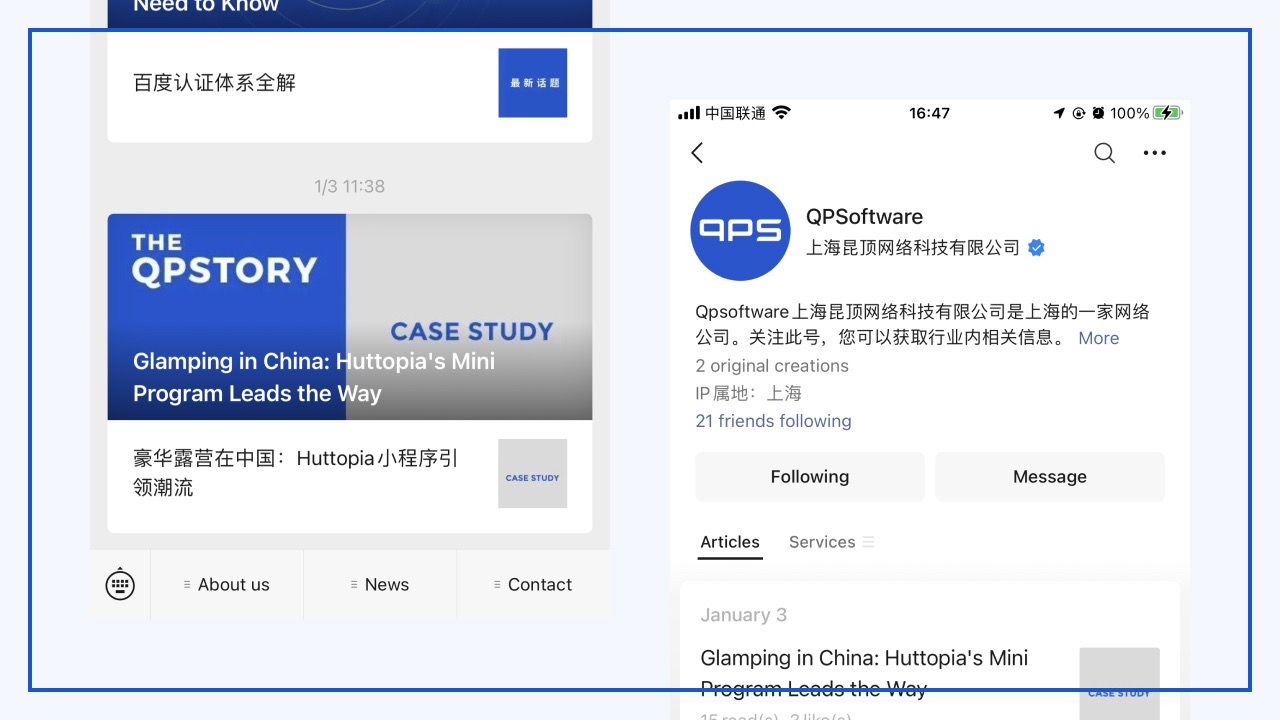 If you want to use WeChat to promote your business, you must open a WeChat Official Account. The Official Account grants companies the opportunity to get in touch with customers and promote their brand on the platform. Therefore, opening a WeChat Official Account is essential to doing business in China.
The process of opening a WeChat Official Account may be daunting, but it is well worth the effort. Moreover, you must decide whether to open a subscription, service, or enterprise account. We have prepared a detailed guide on how to choose and open an Official Account. You can even contact us, and our experts will assist you with the procedure.
Articles posted by WeChat Official Accounts have a variety of unique features as well for businesses:
Article Paywalls
Content publishers can monetise their text creations using WeChat paywalls. This feature, available for official business accounts, opens the possibilities of setting up paid blogs, presenting opportunities for 'tiered' content to users and customers, as well as creating value from original content.
The paywall essentially prevents unauthorised access to non-paying users in select areas of the WeChat official account. The financial mechanism to make this happen is the native WeChat Pay function. Apple users may still require using the OS' service to access content, whereas the full feature is available for Android users.
Article Hashtags
To reach a wider audience with your WeChat articles, you can now add hashtags to your articles. By clicking on the hashtag button while creating an article, you can create hashtags related to your article and help your articles be discovered under trending topics.
WeChat Stores
WeChat stores, or "Weidian" are the equivalent of an E-commerce website but are focused only on the social network. Setting up a WeChat stores gives your customers a fast way to access your products and, of course, to buy them through WeChat.
A WeChat store offers another important advantage. You can use the store for customer care services. For instance, you can offer assistance and send notifications and promotions to enhance customer retention.
WeChat Mini Programs
WeChat Mini Programs are very similar to WeChat stores, but they function differently. A WeChat store is meant to offer an E-commerce experience optimized for WeChat, while a Mini Program is an app that runs within the WeChat ecosystem.
WeChat Mini Programs have been launched in recent years and their popularity keeps growing. Every company operating in the Chinese market should consider the option to have a WeChat Mini Program.
WeChat Marketing: Advertisements and Promotions
WeChat offers countless opportunities to market your products and enhance brand awareness.
For instance, through WeChat, you can create targeted content for your audience and reach them with promotions, flash sales and give away campaigns. You can also partner with local influencers, run Pay-per-click campaigns and more. Refer to our guide on how to promote your WeChat Official Account.
Scan & Purchase Modules
WeChat enables shoppers with a new dimension within the shopping experience.
WeChat utilizes image recognition, that allows you to scan any desired physical product, before making it available for purchase online. Image analytics enables the module to recognise any good, before pairing it with online products with the same, or similar appearance. This function operates as an add-on to its existing Scan & Translate service.
Payment Gateways
WeChat has an integrated payment gateway called Tenpay, also known as WeChat Pay.
Since this payment gateway is integrated into the app, Tenpay has quickly become the second most important payment method in China.
This is good news for companies who can reach customers and collect money from them seamlessly through their mobile phone.
WeChat CRM
WeChat CRM (Client Relationship Management) makes it easy for your company to stay connected to your customers. This feature allows you to collect information about your customers, tracking their behavior on the platform. You can even use WeChat CRM to offer instant support on the social network and monitor when they talk about your brand or leave feedback.
All this information is invaluable in organizing your overall marketing strategy, meeting your customers' needs and planning effective WeChat advertising campaigns.
WeChat Work
WeChat Work is a messaging tool specifically designed for internal communication and to connect corporate organizations. Even though it is basically a messaging tool, it comes with enhanced features that you can use to improve the efficiency and productivity of your organization.
For instance, WeChat Work can track the working time of employees, handle emails, manage phone calls to be automatically billed to the company, send announcements, and so on.
WeChat Channels and Livestream
At the end of 2020, WeChat integrated more video features into its ecosystem with the rollout of the Channels and Livestream functions.
Channels is WeChat's answer to short video-based social media platforms like Douyin and Kuaishou that are now massively popular. Similar to those apps, Channels allows for both users and official accounts to create their own WeChat Channel Account to broadcast their own short form videos to a wide audience. Before Channels, video content could be shared on WeChat moments only visible to friends or embedded in Official Account articles. For businesses, WeChat Channels is a new channel for creating branded content and influencer marketing.
WeChat's Livestream function is an answer to the burgeoning trend of E-commerce livestream sales in China, as seen on Taobao Live and Douyin. Businesses can now use Livestream to smoothly leverage their presence on the WeChat ecosystem to conduct E-commerce livestream sales without leaving the platform. Viewers can also give the livestream channel gifts, which can later be redeemed as cash.
WeChat Features for Individuals
Aside from core features such as messaging, voice notes, voice calls, video chats, and group video/voice calls and social media capabilities like WeChat moments, WeChat offers users tools to simplifies many daily tasks.
Translation, transcription, and image to text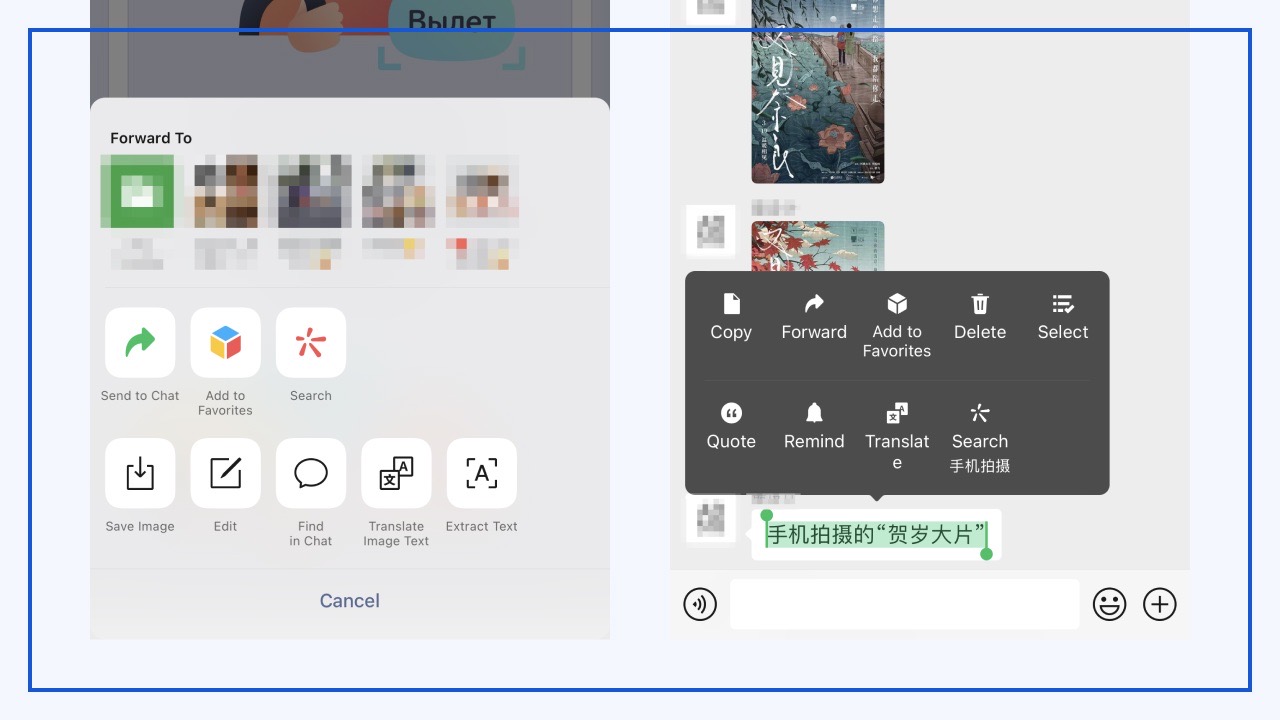 WeChat has developed a variety of features for language processing. By long pressing on messages in chats, you can automatically translate messages into the language you've set for WeChat.
WeChat also has robust image to text and speech to text features. For image to text, you can use WeChat's scanning app to scan text in the physical world into text on your phone. For voice note messages, a long press will automatically transcribe the message in the language it is spoken in. The caveat is that for languages other than Chinese, the transcription might not be the most accurate and for shorter messages, language detection defaults to Chinese.
Location Services
Once you turn on the location service, WeChat allows you to share your location in real-time with friends. The same feature is used by the app to direct you to geo-localized ad content. The WeChat localization features are becoming more and more important for marketing purposes.
WeChat Search Engine
WeChat Search Engine is the feature introduced by Tencent to explore content within the social network. While the WeChat Search Engine only searches for content within the WeChat ecosystem, you can use the search engine function to explore moments in your contacts, articles on specific topics, or to discover other WeChat Official Accounts.
WeChat Services
WeChat Services, previously named WeChat Pay, is the group of services that connects to users' WeChat E-wallet. The WeChat E-wallet connects the app with your bank account or credit card.
Payments can be completed by scanning a QR code, Quick Pay system, In-App native or web-based payment method. In 2022, WeChat services allows for users E-wallets to be linked to their digital RMB E-wallet.
WeChat Pay also enables a host of WeChat Services for users such as paying for credit card bills, taking out loans, topping up your mobile plan, paying utility bills and other various public services, booking rail and flight tickets, hailing taxis, booking hotels, buying movie tickets, and much more.
Latest WeChat Updates
WeChat continually introduces new features that testify to how the company is committed to offering its users a continuously improved service. Here are some of the WeChat features that were rolled out in 2022:
Voice Pause Function
Previously, WeChat's voice notes function wasn't able to pause the playback of voice notes, requiring users to begin listening to voice notes from the beginning if they were interrupted. In January of 2022, a "continue playing" button was added when users longer voice notes were long pressed.
Listening to Text Messages
WeChat added an accessibility feature allowing for users to listen to text messages by tapping on the message. This is accessed in the "Easy Mode" in settings.
Expanded Group Management Features
As one of the core WeChat features, WeChat group chats are crucial for both individual users and organizations. With the newest round of updates, WeChat group admins can now share files, images, location tags, and voice notes in the group notices section. This builds on previous WeChat group chat functions such as group notes or "接龙", group tools, coupons and livestreams.
Youth Mode
Parents can now set daily consumption and single payment limits on WeChat payments for accounts in youth mode.
Second Account (小号)
WeChat is internally testing allowing users to have a second account registered to the same phone number.
4K Video and New Limits for Sending Photos
WeChat now supports sending and posting 4K video. It has also increased the limits for sending pictures to 99 pictures at once.
Conclusion
WeChat is a social network that keeps on evolving and it is becoming more powerful year after year. With added features, and continued updates to match hardware functions, this so-called 'superapp' offers a suite of tools designed for the user, and producer.
There is no doubt that if you live in China you cannot live without it. However, what is most appealing about this platform is the unmatched marketing opportunities it offers to companies.
QPSoftware is a leading web agency specializing in the Chinese market and we have extensively used WeChat to support our clients' operations in China. We can assist you in opening a WeChat Official Account, developing WeChat Mini Programs, or in planning an effective marketing campaign.
Contact us today and discover how to use WeChat to promote your business in China.