Your Guide to the Mini Programs of China
Updated on
April 2023 | By QPSoftware
Category:
As most of our readers already know, China has a unique internet ecosystem compared to the rest of the world. Cut off from most international services by the Great Firewall of China, the Chinese internet has developed its own thriving digital landscape. In the last few years, innovations within China's digital industry have begun exceeding those of their Western counterparts in terms of their functionality and innovation. We've already seen the meteoric rise of Tik Tok/Douyin and the emerging trend of livestream sales.
Today, we'll explore the latest Chinese digital innovation that is set to revolutionize app development worldwide: Mini Programs.
What Are Mini Programs?
Mini Programs are lightweight apps that operate from within another host application, usually referred to as a "Super App". As the most well-known Super App, WeChat and its WeChat Mini Program ecosystem are usually what people will think of when hearing Mini Programs.
Tencent launched WeChat Mini Programs in early 2017, making WeChat the first Super App. Shortly after, other apps in China become Super Apps by implementing Mini Program support. Today, aside from WeChat, major apps such as Baidu, Alipay, and Douyin have all developed their own Mini Program ecosystems.
In the Spring 2023 report from QuestMobile on the current state of Chinese digital user traffic, eight of the top ten Mini Programs have seen over 100 million active users over the entire year of 2022. The top three all saw over 200 million active users.
Why Use Mini Programs?
Mini Programs provide end users, businesses, and Super Apps a variety of advantages over traditional applications.
Users
For users, Mini Programs provide the advantage of convenience. Using a Mini Program doesn't require downloading an entirely new application to clutter your phone screen real estate. As users are already logged in through the host Super App, they do not need to register. Being so lightweight, with a maximum size from 8MB to 20MB, Mini Programs also do not eat into phone storage.
Businesses
For businesses, Mini Programs provide access to the host Super App's pre-existing userbase. With native apps, businesses could only reach those who decide to download the app and register for their service. This critical benchmark in app adoption by users is referred to as FTU or First Time Use. With Mini Programs, the initial friction of FTU is greatly lowered for users because of the seamless integration of Mini Apps and the rest of the Super App ecosystem.
As users are already logged into the Super App, Mini Programs can allow businesses to easily collect vital consumer metrics when users use their programs. Furthermore, on social media Super Apps such as WeChat and Douyin, businesses can realize a full marketing campaign within the host Super App by leveraging the ability to combine informational content with Ecommerce functionality for a full marketing to sales pipeline.
Super App
For the Super App itself, Mini Programs ensure users are always on their platforms, as they do not need to the leave the application to access third party functions. For example, Alipay users can use the Didi Mini Program to hail and pay for a taxi without needing to download the full Didi app.
Disadvantages of Mini Programs
Despite their convenience, Mini Programs are not without their drawbacks.
Due to their inherent size limitations, these lightweight applications cannot be as fully featured as a native app. In addition, Mini Apps are subject to any restrictions placed upon them by their host Super Apps. For example, WeChat Mini Apps do not support Alipay payments due to Alipay being a main competitor to WeChat's native WeChat Pay.
How Do Mini Programs Work?
Users access Mini Programs from within the host Super App. Mini Programs in Super Apps range from being on the home screen (Alipay) to being accessible via a simple gesture (WeChat) or light menu diving (Douyin, Baidu).
Accessing Mini Programs in WeChat, Baidu, Alipay, and Douyin (left to right)
Aside from finding Mini Programs via navigation, users can also access Mini Programs via QR code scan of Mini Program QR codes in physical spaces.
When users open a Mini Program, they are immediately taken to the Mini Program's page, which effectively functions as its own app with its own navigation functions. To close a Mini Program, users click on the close button on the top right of the page.
As a sub application within the host Super App, Mini Programs can access all the inbuilt functionalities of the Super App such as payments processing and geolocation. This allows Mini Programs to function as a fully-fledged application.
Types of Mini Programs
Mini Programs are as diverse as native apps. Encompassing games, E-commerce, finance, daily services, social media, dining, music streaming, and more, Mini Programs in China have proliferated to fill every industry niche, all accessible within one Super App.
According to Quest Mobile, in 2022, the most popular type of Mini Program across Super Apps are daily services. These include services such as mobile chargers (Energy Monster), phone bill top ups (China Telecom), bike sharing (Hello Bike), food delivery (Eleme), and package delivery services (SF 顺丰快递) among others. This category of Mini Program makes up 43%, 52%, and 26% of the 100 most used Mini Programs on WeChat, Alipay, and Baidu respectively.
Other popular types of Mini Programs include financial services (Alipay's Duxiaoman 度小满and WeChat's Weizhong 微众), Ecommerce services (various Mini Programs used by restaurants and small shops accessible via scanning QR codes), and ride hailing services (Didi).
In the WeChat ecosystem, office productivity Mini Programs such as Tencent Documents and gaming Mini Programs such as OHHH! Sheep (羊了个羊) are more common compared to other platforms. In the Baidu ecosystem, education and media industry Mini Programs are more popular compared to other platforms.
An Overview of Super Apps in China
| | | | | | | |
| --- | --- | --- | --- | --- | --- | --- |
| | Year Mini Programs introduced | Who can launch Mini Programs? | Platform fee | Size Limit (total size, not including audiovisual media hosted on own servers) | Platform MAU (January 2023) | Suitable industries |
| WeChat | 2017 | Individuals, individual businesses, and corporate enterprises | Free for individuals (doesn't support E-commerce), 300RMB verification fee for enterprise (E-commerce supported) | 20MB | 1.045 billion | Gaming, office productivity tools, city services, E-commerce, event promotion |
| Alipay | 2017 | Only corporate enterprises | Free | 8MB | 877 million | Business services, city services, finance, E-commerce |
| Douyin | 2018 | Individual businesses and corporate enterprises | 600RMB (includes server costs and official verification of your Douyin account) | 16MB | 654 million | E-commerce |
| Baidu | 2018 | Only corporate enterprises | 300RMB verification fee | 8MB | 738 million | Education, news |
WeChat Mini Programs
When it comes to Mini Programs, WeChat Mini Programs are what most people immediately think of. According to a 2023 report from Statista, WeChat Mini Programs saw 921 million monthly active users in September of 2022, representing 89% of all WeChat users. With a Mini Program MAU size larger than the total platform MAU of Alipay, Douyin, and Baidu, WeChat's Mini Program ecosystem is the largest in the world.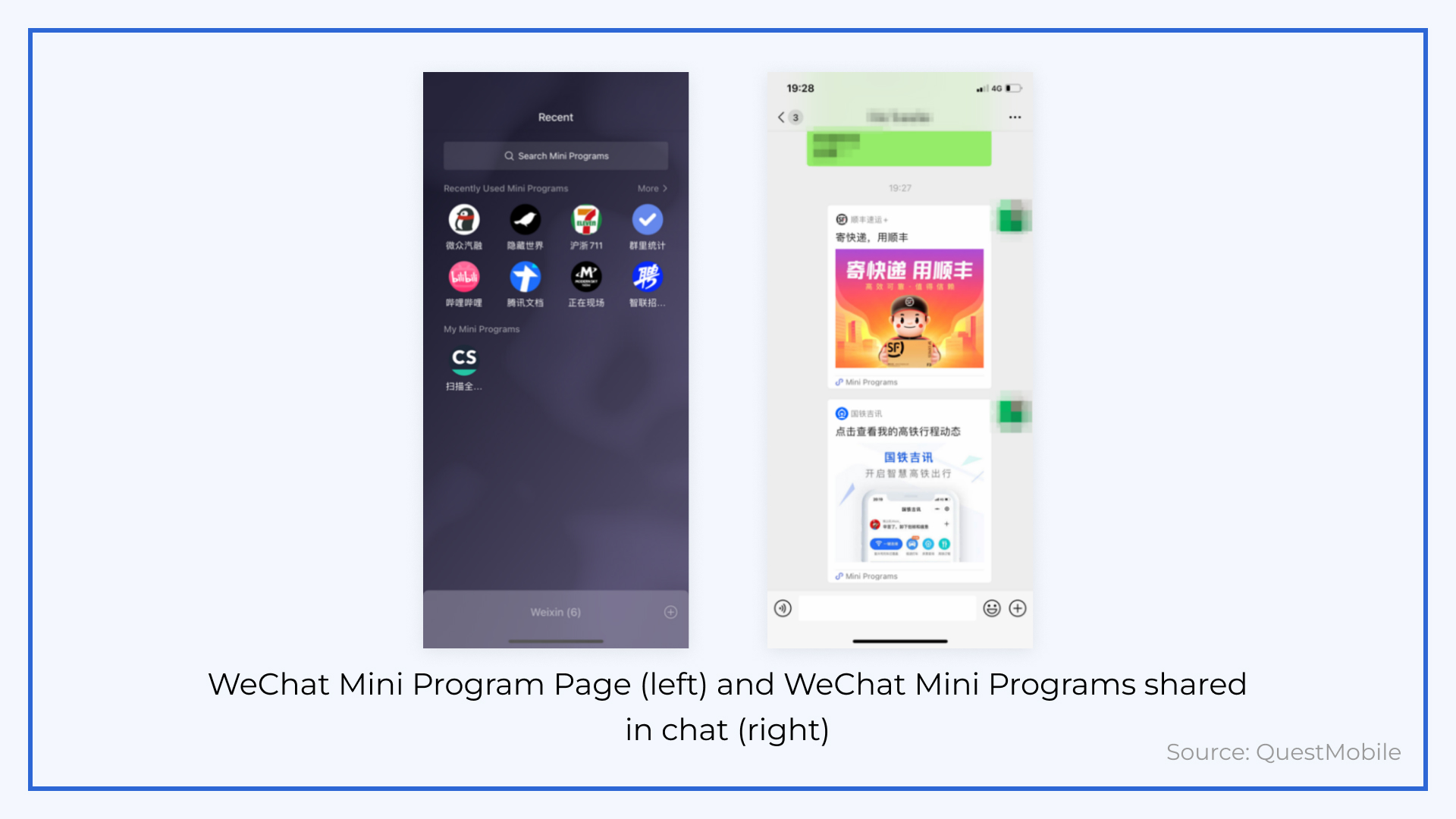 Aside from accessing Mini Programs via sliding down on the chat page and scanning QR codes, WeChat Mini Programs can also be accessed from Mini Program posts in chats and ads in the Discover page.
Alipay Mini Programs
As first and foremost a mobile payment application, Alipay has an ecosystem where almost all Mini Programs take advantage of Alipay functionality. The barrier of entry for developing a Mini Program on Alipay is much higher compared to WeChat and Douyin, as Alipay's Mini Program ecosystem is only open to corporate enterprises.
Douyin Mini Programs
Of all the major Super Apps, Douyin is the latest platform to adopt Mini Programs. As such, it has the smallest Mini Program ecosystem out of all the competitors.
Aside from finding Mini Programs in the drop-down menu, Mini Program links can be found in posts and livestreams on Douyin.
Baidu Mini Programs
Much like Alipay, Baidu only allows for corporate enterprises to develop Mini Programs on its platform. Therefore, launching a Baidu Mini Program has a higher barrier of entry compared to other Super Apps.
What Do Businesses Need to Begin Developing Mini Programs?
For businesses and developers, the size limitation of Mini Programs means that most non-code content must be stored on external Chinese servers. If a Mini Program has content stored on a Chinese service, businesses looking to create a Mini Program will need to apply for an ICP filing.
In addition, to develop a Mini Program in China, businesses are required to obtain the same licenses as native apps.