WeChat Pay In The UK - What's The Future Of WeChat Payment International
Updated on
April 2017 | By QPSoftware
Category:
In China, the use of WeChat's WeChat Pay and Alibaba's Alipay are so common that they have become part of everyday life. It's been a few years that these payment methods have become unavoidable but this massive trend has only been seen in China. Therefore both companies are currently attempting to grow to other nearby countries and even other continents.
Is WeChat Pay available out of China?
The WeChat Pay international expansion is inevitable. The Chinese Mobile Wallet is present in 25 countries and with plans to open its services in new regions. For the moment WeChat Payments out of China can only be done by Chinese people having a Chinese ID (your WeChat account needs to be linked to your Chinese ID). Without Chinese ID you are not allowed to do transaction outside of mainland China. Here we have some examples of how WeChat is expanding beyond China:
WeChat Pay in Italy
Since 2015, WeChat Pay has been available in Italy giving Chinese customers the possibility to pay with their WeChat Pay account. It is exactly the same process as the one used in China. The available merchants have provided a barcode that the Chinese customers must scan to pay. It seems that WeChat Pay is available in more than 50 locations in Italy. Whether in fashion or luxury brand shops, in the hospitality industry or other retail companies we see WeChat Pay growing.
WeChat Pay in South Africa
Also in recent news, we have seen the launch of WeChat Pay in Cape Town (South Africa). It doesn't seem to be a big success at the moment but they have launched it not only for Chinese people but also for the locals. They tried to promote it with some discounts to make the APP more appealing. However, other than the discounts the locals still do not know what the APP is for or how to use it. At the moment WeChat Pay is working with Standard Bank.
WeChat Pay in UK
WeChat Pay has decided to extend its services to another country, the UK. They have linked up with Tramonex, a British payment company. Tramonex will help to integrate the WeChat Pay's payment infrastructure with the British retailers.
Here are some places where you can pay with WeChat in UK:
WeChat Pay in London
WeChat Pay has arrived to Candem Market, now you can overhaul your wardrobe, get a long time forgotten vinyl with WeChat. This little experiment is designed to aim the consumption of Chinese tourist in the British capital.
WeChat Pay in Heathrow
Since October 2018 WeChat users can pay on the duty free area by scanning the QR codes placed on the stands.
How to set up WeChat Pay in UK
As you are reading this article maybe you are wondering about how to use WeChat Payments in UK without a Chinese bank account, we have good and bad news. The good part is that is possible to top up your WeChat wallet in UK without a Chinese bank account, the bad part is that it is not possible for every one
How I add a British or International bank card to my WeChat Wallet?
First of all this option is limited by three conditions
You need to download the app in Mainland China, Taiwan, HK or Macao
Only credit cards are allowed, not debit cards. This include Visa or MasterCard
You need to hold a Chinese ID
Yes, that's right only Chinese people who opened an account abroad can link their international cards to WeChat Pay. Don't panic, we found a work-around in the Crossborder Digital blog that might work for you:
How to set up WeChat Pay as a foreigner without a Chinese bank account?
Ask a Chinese friend to send you a little amount of RMB with a red packet, opening the packet will enable your wallet.
Now you can consult your balance and realize payments with WeChat, but you will need to top up your wallet eventually.
To top up your wallet you can ask your Chinese friend to keep sending you red packets in exchange of real money or you can open an account in a third party service as Micredits.com where it is possible to buy Yuans for your WeChat Wallet via Paypal
The future of WeChat Pay in Europe
We can be sure that they will not stop with the UK. In fact, if we listen to what Andrea Ghizzoni the European director of Tencent said: "In overseas markets, like Europe, we will keep focusing on the development of services to best serve EU companies interested in leveraging digital channels to foster business opportunities with Chinese customers". They have future plans also target France and Germany.
The Problems with the WeChat Pay Internationalization
The general WeChat Pay situation is a bit more complicated. Even though they have more than 800 million users in China, they have not been successful in significantly increasing the number of users outside of China. Simply put this is because it is very hard for people to make the decision to use a new social media platform when none of their friends are using it.
As we have seen, WeChat – Tencent, is helping local firms to get the Chinese business from those going abroad.
Moreover, we have recently witnessed a big move from Tencent. They have invested 1.4 billion USD with Microsoft and eBay in Flipkart, an Indian ecommerce marketplace that will compete with Amazon and maybe even Alibaba. Tencent's investment is considered as a help in linking social networking and e-commerce
If you want to know more about how WeChat is doing internationally, check our article:

Is Alibaba – Alipay available out of China?
Alibaba – Alipay was the first of the two that tried to reach the European market. It has already been two years since they started working in the UK and during this period of time, they have become connected with several large European banks such as BNP Paribas, UniCredit, and Barclays. Moreover, in the UK, Alipay is available in many luxury stores and brand retailers such as Harrods in London.
It is interesting to note that Alibaba is doing quite well outside of China. Their international commerce in 2016 was more than 7.5 billion CNY (7.5% of their total CNY revenue) and more than 1 billion USD (7% of their total USD revenue). They had an increase of more than 18% just within the 2015 year.
Besides that, their presence in South East Asia is continuing to grow. We can see that AliExpress is starting to catch up with Amazon which has been slowly declining since April 2012 in the Indonesian market. One year ago (April 2016) Alibaba bought a controlling stake in Lazada. This e-commerce platform is backed by Rocket Internet and we have seen this platform has started booming in the last few years. They have also announced that they are going to develop an e-commerce hub in Malaysia with the Malaysia Digital Economy Corporation (MDEC). They have also recently opened a Taobao Collection in Singapore.
What Is T
he F
uture Of Alibaba – Alipay?
On the one hand, with regards to the South East Asian markets, the purchase of shares at Lazada and the launch of Taobao Collection in Singapore, their future looks to be very promising. On the other hand, with the European market, if they continue with the same platform and maybe even start to target other countries or strengthen the ones they have at the moment, it can only be a positive outcome.
Furthermore, they are quite famous in South East Asia because:
South East Asian countries are facing the same challenges that China saw ten years ago. A growing economy with a lot of logistics/payments issues.

South East Asia is still an open market, unlike the U.S.A where Amazon has a total domination of the market.

It is easier to get people to use/try an ecommerce website.
Alibaba is targeting South East Asia where the customers are starting to face some international expansion.
How are WeChat and AliPay expanding internationally?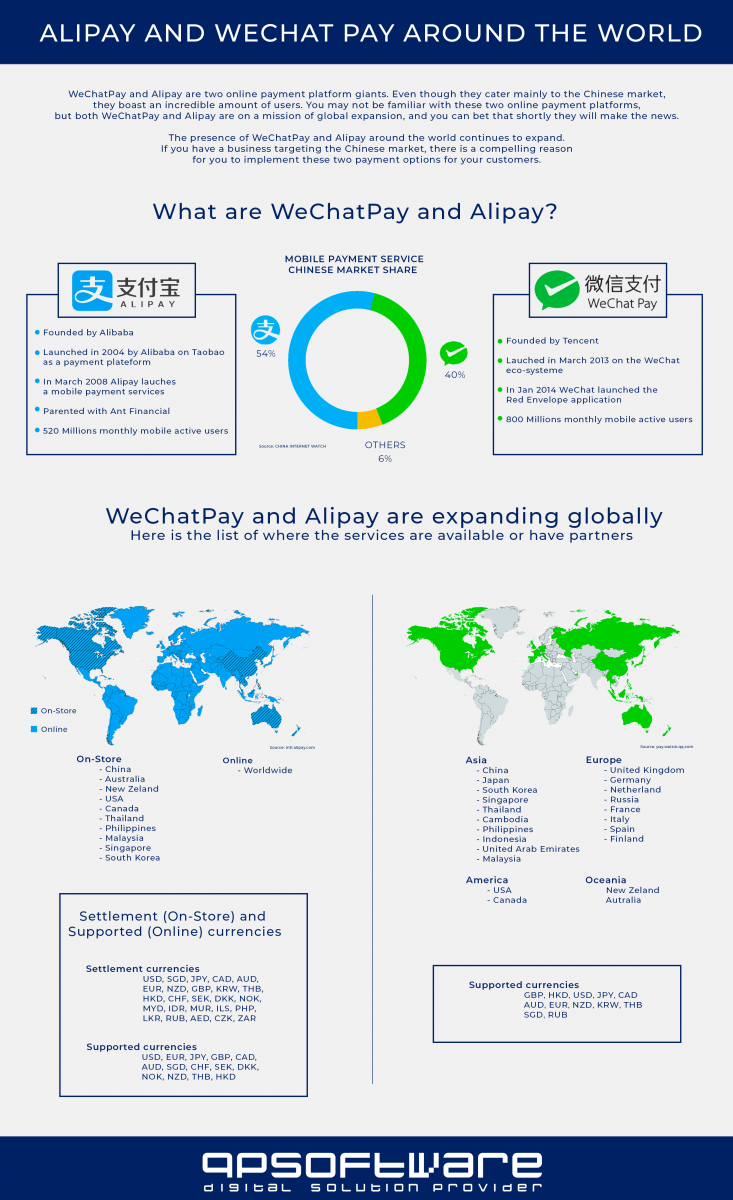 What Is Your Next Step?
If you use WeChat Pay or Alipay you will be able to use them outside of China in a few countries and maybe even a few more in the coming years. If you want to have more information about this subject or even others, do not hesitate to contact us.